American Airlines Flight 77 Impacts the Pentagon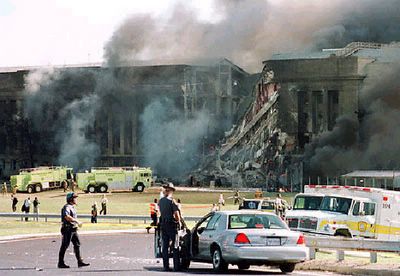 May the Blessed Virgin bring comfort and hope to those who suffer on account of the tragic attack of the terrorists, that last week seriously harmed the beloved American people.
To all the children of this great Nation I direct my heartbroken and heartfelt consideration.
May Mary welcome the dead, console the survivors, support those families who are particularly tried, help all to resist the temptation to hatred and violence, and to dedicate themselves to the service of justice and peace.
May the Virgin Mary nourish in the hearts of all young persons, above all, high human and spiritual ideals and the necessary perseverance to achieve them. May She remind them of the primacy of eternal values, especially in these difficult moments, so that in their daily engagements and activities they may ever continue to be turned toward God and to his kingdom of solidarity and peace.